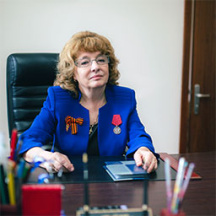 Svetlana Ivanovna Bryzgalova
Director
Svetlana Ivanovna Bryzgalova graduated from the Irkutsk State University named after A.A. Zhdanov in the capacity of a chemistry teacher in 1972.
In 1972 she joined the company for the production of bacterial preparations of the Irkutsk Scientific and Research Institute of Experimental Medicine, which subsequently became the Irkutsk branch of the FSUE NPO Microgen of the Russian Ministry of Health, where she is working now. During her career she evolved from a process specialist for the development of blood products, the production of immunobiological preparations to the company's director.
In 1978, under Svetlana's guidance, the inactivated chromatographic influenza vaccine was developed and its industrial production was arranged in the shortest possible time. Seven years after she joined the company, in 1979, S.I. Bryzgalova was appointed the deputy director and continuously worked on this position for 30 years, until 2009, when she headed the Irkutsk company for the production of bacterial preparations.
For her high performance Svetlana Ivanovna Bryzgalova received commendations and hornors, was awarded the Excellent Medical Worker's Badge of the Russian Ministry of Health in 1983, diplomas from the Russian Sanitary and Epidemiological Service and the Ministry of Health of the Russian Federation in 1984, 1992 and 1999, and commendations in 1974, 1976, 1977, 1979, 1986, 1999 and 2005. She have earned the well deserved respect of colleagues and partners due to her professionalism, commitment, dedication, intelligence and attention to colleagues, and her ability to effectively arrange production processes contributed to the development of unique domestic bacterial preparations for the benefit of the Russians' health.
History of the Branch
The Irkutsk company for the production of bacterial preparations was founded in 1918 as a production sector of the Irkutsk Chemical and Bacteriological Institute.
In 1959, the company became subordinated to the Scientific and Research Institute of Epidemiology and Microbiology. At that time, its principal activity was the production of concentrated serums, adsorbed toxoids and gamma globulins. The company obtained its official status after registration with the RSFSR Ministry of Health on September 30, 1960 (Order No. 474).
At present, the branch of FSUE NPO Microgen of the Russian Ministry of Health "Irkutsk Company for the Production of Bacterial Preparations" is a modern production complex with a well developed infrastructure, which supports it autonomous regime of operation to the largest possible extent.
The territory of the production site of almost 8.5 ha has the following production facilities: the influenza vaccine shop, the finishing operations shop, the growth media preparation department, the packaging shop, the biological control department, the general purpose warehouse, the finished products warehouse), the administrative office and auxiliary services (the boiler room, the garage, mechanical repair shops, the laundry, the sewage pumping station, the bomb shelter). The total built-up area is 8500 sq.m.

Contacts
Branch FSUC "SIC "Microgen" of MOH of Russia «Irkutsk Enterprise for Manufacture of Bacterial Products» in Irkutsk

Адрес:1A, 3rd Lyotchikov str. Irkutsk, 664009

Телефон: +7 (3952) 27-12-31

Факс: +7 (3952) 27-12-29